I'll admit, we've been busier than ever, but not in the clubs with the usual gigs;
Busy on the home front - creating and crafting, listening, writing and revising, booking, visualizing.

Steadily we go on this new batch of songs!  We've decided to release multiple EP's instead of one long playing (LP) album. This way, we are able to compile groups of songs as they become fully realized and not rush through the process to reach a deadline. It's very important to us to give the material time to breathe and come to life. We've not always given ourselves this luxury but since we're ultra DIY, recording and playing all the instruments ourselves in the home studio, it all takes a little bit longer than you might imagine, but it's so much more rewarding an experience for us and hopefully for you, the listener.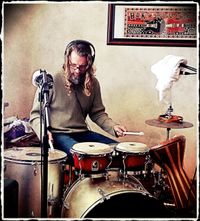 'Home: Vol. 1' will be released on June 23rd! 
We hit the road on June 25th to begin our tour in Clarksdale, MS and Muscle Shoals, AL.
Then through Norman, OK, Amarillo, TX and on to Santa Fe, NM for the Santa Fe Wine Festival.  We'll be spending July 4th weekend in NM, playing in Santa Fe and Taos. 
Following that we head eastward to Austin, TX where we have 2 shows and 2 markets lined up. Then we make our way back home via Lake Charles, LA.
We hope to see you in our travels; if not, please share our calendar with friends & family - it will be our first visit to some of these towns and support is deeply appreciated!





We've put the Magnolia album on sale on the website, so if you don't have a copy yet, get yours here. We'll be setting up pre-orders soon for the new EP and will let you know when that sale goes live :) 
We're super excited about this new EP and the tour and look forward to seeing all your smiling faces out there!! :) <3
 

A few words about the new SJ album.
Home: Vol. 1

"The next level in our evolution,

bringing a sense of longing and belonging at once...
Getting to the heart of the matter
finding out what matters.
Developed at home and finding new ways to be at home in the world,
stepping away from the full throttle club gigs in favor of a more rootsy, reflective vibe.
Reaching in and pouring out."
                    ~ Mrs. D. ~
                   

FaceBook
Instagram
We finally joined Instagram and will be posting lots of pics from the road :)